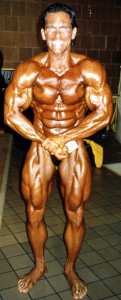 One common mistake I see from bodybuilders is placing too much emphasis and importance the final week of contest prep.  If you are expecting a dramatic transformation to happen the last week you are setting yourself up for disappointment.
The final week is not going to make or break the way you look onstage.  It's all about the months leading up to the show that really count.  There's no special magic trick that will transform you into a rock hard monster on the day of the show.  If you are not ultra lean there are no amounts of last minute hocus pocus you can do that will make any difference.
That being said, if you are completely shredded going into the last week you can do some mild nutrient manipulation and it can help enhance your physique but again I stress it is not going to make a huge difference one way or the other.  If you are shredded you are going to be shredded onstage.  If you are smooth, you are going to be smooth onstage.  It's pretty much as simple as that.
(You can see in my Lost Logs e-Book exactly how I did my nutrient manipulation the final week to enhance the appearance of my already super lean condition.  More importantly you can see how I handled the 18 weeks leading up to the contest.)