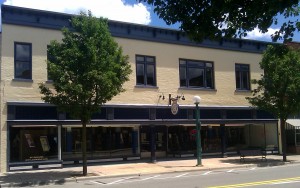 In 2004 I moved back to my home town of Adrian, Michigan to open Jeff Willet's Powerhouse Gym.   When scouting possible locations I fell in love with this space the moment I walked in.   It was clear the building needed a lot of work  inside and out but I saw the enormous potential and I loved the fact it was located in our historic downtown.  I knew this had to be the spot!
What makes the building very unique is that has two mezzanines making for a fantastically open floor plan.  The weight training equipment, locker rooms, juice bar and store are on level one.  Level two has all the cardio equipment and the third level is where we teach our classes.
The interior got all of my intention initially.  We gutted the place and spent 6 months restoring and remodeling the inside.  Almost 7 years later I was able to address the front and rear facade making dramatic improvements.  The facade work started in October 2010 and was completed July 2011.  Like almost any major renovation it took longer than expected and we ran into a few obstacles but in the end it turned out great and I'm thrilled with the finished product.
If you are ever in or around downtown Adrian make sure to stop by and check it out for yourself.  (While you're here I suggest trying one of our famous protein smoothies.)
You can also check us out on facebook.   Click "Like" on the Jeff Willet's Powerhouse Gym page to follow along with news and updates.