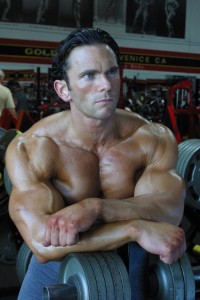 If you workout long enough it is bound to happen no matter how careful you are with your execution.  A strain here, a pull there or possibly worse.  What should you do when you get an ache or pain?
First let me start by saying forget about the archaic notion of "no pain, no gain".  The pain is there for a reason and it is telling you "stop doing this motion, stupid!"  If you ignore the pain and try to work through it you are setting yourself up to make the problem worse or at minimum prolong the healing process.  You could turn a minor pain into a major problem real quick if you are not careful.
When you have an area that is in pain you need to work around the injury by selecting exercises that cause little to no aggravation. Under these circumstances it is OK to choose exercises even if they fall out of the Max-OT guidelines.   If you find a movement that doesn't cause pain proceed with caution and focus on form and feel rather than pushing maximal weight.
If the area hurts no matter which alternative exercise you try you need to take time off and let the area heal.  You have nothing to gain by trying to push through the pain.
Continue to train other body parts that don't affect the area and let the injury heal.  It is better to take a week or two off rather than make the problem worse and have to deal with it for 6 months or more.
If you train smart and work around pain rather than ignoring it you will be back to lifting maximal weights in no time.