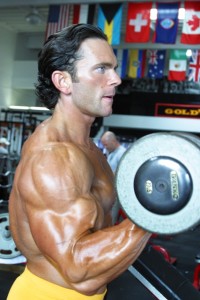 The frequency you change your Max-OT routines depends on your individual preference in my opinion.  I don't think frequent changes are necessary from a results stand point but you may find the "mental freshness" of following a new routine helpful periodically.
Let's make one point clear.  When you do change your Max-OT arrangement you still want to follow the important Max-OT principles such as exercise selection, set/rep volume and training frequency.  Also remember change for the sake of change is not productive if you are installing less effective methods just to do something different or to "shock your muscles"  Muscles don't need to be shocked, they need to be progressively overloaded with basic lifts.
Among the Max-OT principles is the recommendation of taking a week off after every 8-10 weeks of training.  I think the week back to the gym following your time off is a logical time to change to a new Max-OT arrangement if you choose.  I like to follow the same plan for the entire 8-10 week period so I can establish numbers and work to better those numbers every workout.  If you are frequently changing your routine that type of progression is hard if not impossible to measure.
At the end of the day what really matters most is the continual execution of the core principles for months and months on end.  Couple this with consistent nutrition and you will be on the path to maximal results.