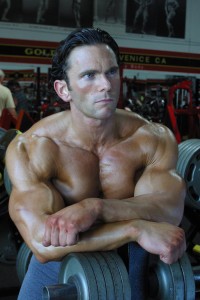 I often get questions that dissect what I consider minute aspects of training.  Questions like rest time between sets, amount of weight to use on warm-up sets, how many warm-up sets, when do I increase weight, is 6-8 reps better than 4-6 reps, are dumbbells better than barbells….etc, etc, etc.
These are valid questions to a point but all of these basics are outlined in the Max-OT principles.  After you get a grasp of the basic principles there is no need to spend time hashing over the small details while you miss the bigger picture which in my opinion is the execution of the plan with intensity and machine like consistency for months and months on end.
Don't miss the dollars to pick up the pennies!  For example the differences of waiting 3 minutes instead of 2 minutes between a set or doing 5 warm-up sets instead of 4 doesn't make a big impact either way.  Just execute the basic principles every day to the best of your ability inside and very importantly outside of the gym and you will do great.  The more great days of execution you can string together, the better your results will be over time.
Another thing for you to consider…..My opinion of the best way to train is not going to change.  I have been consistent with my teaching for well over 10 years.  This is based mostly on my own outstanding results but also the results I have seen by others who have executed the same methods with religious consistency.  My position is not going to change so before you ask me if I think 8 reps is better for muscle hypertrophy than 4-6 reps you should save your energy because you already know my answer.  If I thought 8 reps were better I would have been using 8 reps and I would be telling everyone else to do the same. 
It's like one of my favorite singer/songwriters once said.  When he was asked what is the meaning of one of his hit songs he replied, "If I knew another way to say it, I would have written a different song."  Same goes with me.  If I thought there was a more effective way to train I would have been doing things differently for the last 10 years and certainly through the apex of my career.  
Skip La Cour and I have an interesting discussion about this and other related topics in our latest podcast.