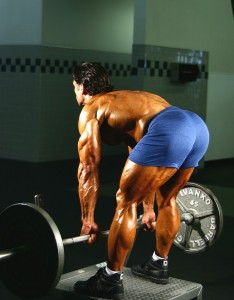 Here are 5 of my favorite leg training tips to help you maximize your lower body development!
1. Keep it simple…Squat, Squat, Squat!
There is no better lower body exercise than squats.  Squats will help develop quadriceps, hamstrings and glutes.  Plus squatting has a positive effect on your entire body.
2.  Train quadriceps and hamstrings during the same workout.
I view the upper leg as one functional unit and due to the amount of hamstring involvement in compound exercises like squats I think it makes the most sense to train hamstrings and quadriceps on the same day.  I believe separating the two will lead to over-training.
3.  Keep the volume low and the intensity high.
This is a common theme for all body parts and one of the most important.  7-8 total sets for legs (quads and hamstrings) is sufficient.  Keep intensity high with heavy weights in a 4-6 rep range.
4.  Don't mess with feet position.
When squatting or doing the leg press place your feet in a comfortable and natural position/distance apart where you feel strongest.  Work with your natural mechanics, not against them.
5.  Work them once a week only.
Train legs one time per week only to avoid over-training and allow for maximum recovery/results.
(Ladies – you can't spot reduce fat so training legs/glutes/hams multiple times per week isn't going to "tone" you up faster.)
You can see an example of an effective leg workout on this FREE Max-OT routine.