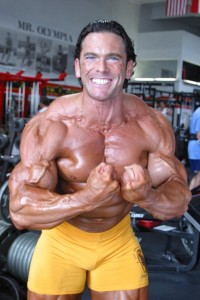 I use the word execute a lot.  If you read my stuff and watch any of my DVD's you probably already know this!  The reason I hammer this word is because in my mind it best sums up the central key for achieving outstanding results.
Great results come over time as a product of the daily execution of a smart plan.  I have often said the more great days of execution you can string together, the better and faster your results will happen.
This means daily execution of the entire plan including Max-OT weight training, Max-OT cardio and the all important nutrition principles.  You can't just be good at one part of the plan if you want to achieve outstanding results you have to be good at doing all phases.
The other key ingredient for achieving outstanding results along with execution is patience to give it enough time.  It is not going to happen over night no matter how well you execute the three phases.  If you bail on the plan too soon you will never know what you truly can achieve.
Stuart MacDonald is a perfect example and you see exactly what I am talking about unfold right in front of your eyes in our documentary "I Want to Look Like That Guy." You will clearly see it takes Stuart a couple months of daily execution before he starts seeing any real changes.  The key was Stuart didn't give up.  He trusted the plan and he continued to execute for months on end and that is how the magic happened and how Stuart went from over 30% body fat to less than 6% body fat.
The moral of this story is learn the plan, execute the plan and give it enough time to work!  There are no short cuts but I promise you the pay off will be well worth the investment.
Execute!