There are many different ways you can structure your Max-OT workout schedule.  All are effective as long as the basic principles are intact: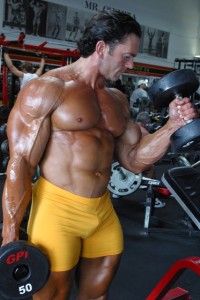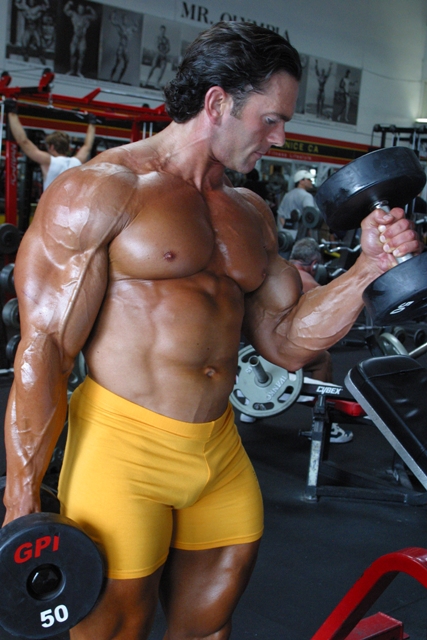 Keep the frequency low:  Train each body part one time per week only.
Keep the volume low:  6-8 total sets for bigger muscle groups, 4-5 total sets for smaller muscle groups.
Keep the intensity high:  Use heavy weights in a 4-6 rep range.
Keep it basic:  Select basic compound free weight exercises.
For those looking to get your workout done over a 4 day split.  Here is an example of an effective 4 day workout.
Day 1 – Chest & Triceps
Flat Bench Press (Barbell)….3 sets 4-6 reps (After Warm-up)
Incline Bench Press (Barbell)….2 sets 4-6 reps
Weighted Dips….1 set 4-6 reps
Lying Triceps Extensions ….2 sets 4-6 reps (After Weight Acclimation)
Tricep Cable Pushdowns….2 sets 4-6 reps
 Day 2 – Legs & Calves
Squats….3 sets 4-6 reps (After Warm-Up)
Leg Press….2 sets 4-6 reps
Stiff Leg Deadlifts…2 sets 4-6 reps (After Weight Acclimation)
Calf Raises On Leg Press….2 sets 6-8 reps
Seated Calf Raises….2 sets 6-8 reps
Day 3 – Back & Biceps
Barbell Rows….3 sets 4-6 reps (After Warm-Up)
Seated Cable Rows….2 sets 4-6 reps
Pull-Downs….2 set 4-6 reps
Barbell Curls….2 sets 4-6 reps (After Weight Acclimation)
Dumbbell Curls….2 sets 4-6 reps
 Day 4 – Shoulders/Traps & Abs
Shoulder Barbell Press….3 sets 4-6 reps (After Warm-Up)
Side Lateral Raises….2 sets 4-6 reps
Rear Lateral Raises….2 sets 4-6 reps
Barbell Shrugs….2 sets 4-6 reps (After Weight Acclimation)
Cable Crunches….3 sets 8-12 reps
Swiss Ball Crunches….2 sets 8-12 reps