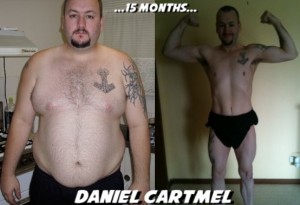 "I Want to Look Like That Guy" continues to inspire people all over the globe.  I received another great success story I wanted to share.  This one comes from Daniel Cartmel of Australia.
"Initially it was seeing what a transformation Stuart made in the documentary I Want to Look Like That Guy that got me thinking that it was possible for me to achieve it too.  About 10 months ago i started training Max-OT and totally fell in love with the training style.   I love the thought that my transformation could help motivate someone else to decide they can change their life too.  Remember this…. It's never too late to become what you might have been." – Daniel Cartmel
Thanks for sharing your story Daniel and GREAT JOB executing the plan.  Once again, your pictures speak for themselves!