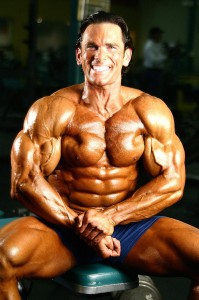 Based on a lot of FAQ and common mistakes here are 10 tips to help you get the most out of your time at the gym…
1. You're doing too many crunches:
Common sense might suggest that working your abs will flatten your stomach but physiology disagrees.  Crunches alone will never give you a 6-pack.  You can't spot reduce fat from specific areas.  The only way to get a 6-pack is by getting lean and that is accomplished primarily through cardio exercise and diet.
2. You're in the gym too long:
The weight training portion of your routine should be about 40-45 minutes maximum and cardio should be 16-20 minutes at high intensity for maximum results.
3. You're not pushing yourself hard enough during cardio:
If you can read a magazine or enter into a conversation you are not doing cardio as hard as you need to for maximizing fat loss.
4. You're doing too many sets:
Keep the volume low to maximize muscle building.  6-7 sets total for large body parts like chest, back and legs.  4-5 total sets for small groups like biceps and triceps.
5. You're doing too many reps:
Overloading the muscle is the key to stimulating muscle growth and this is best achieved in a 4-6 rep range.
6. You're using machines:
Free weight compound exercises are most effective for building muscle.
7. You should drink a protein shake directly after training:
A post workout drink of whey protein and simple carbohydrates is highly effective for kick starting the recovery process by supplying vital muscle building nutrients when you need them the most.
8. You are talking too much:
Of course there is a social component to going to the gym but you have to keep your workout moving at an efficient pace to maintain focus and concentration on the task at hand.  Too much talking between sets can kill momentum.
9. You keep changing your program:
It takes many months to change your body so if you don't get instant results don't blame the workout program.  Stick with the Max-OT principles and focus on your nutrition rather than trying to find some "magic" workout routine. Consistent execution of an intelligent plan for months on end is key.
10. You're not focusing enough on Nutrition:
You can be the most consistent person in the gym and execute a great workout program but if your nutrition suffers, your results will suffer too.