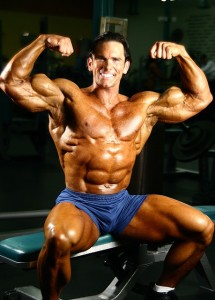 Here are my top training tips to help you achieve awesome arms!
Keep the frequency low:
Train biceps and triceps directly one time per week only.
Keep the volume low:
4-5 total sets for Biceps and 4-5 total sets for Triceps.
Keep the intensity high:
Use heavy weights in a 4-6 rep range.
Use loose form:
Don't be too strict or rigid.  Let your body move naturally as you perform the exercises but always maintain good muscular control.
Use basic free weight exercises as your primary movements:
My favorite for biceps is barbell curls.  My favorite for triceps is lying tricep extensions.
Keep these tips in mind as you execute the Max-OT principles and you will be well on your way to achieving awesome arms!