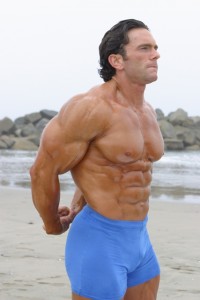 Achieving a lean and muscular midsection is all about fat loss.  You can do 1000 crunches a day and it won't make any difference because you can't spot reduce fat.
Here are 5 great tips to help you achieve awesome abs!
1.  Cardio, cardio, cardio:
Cardio plays an important role in fat loss.  Keep your cardio sessions short (16-20 minutes) and intense.  If you are emphasizing fat loss do cardio at least 5 times a week.
2. Monitor your caloric intake:
You should keep a log of your food intake each day so you can calculate your total caloric intake.  Once you establish a starting point you will want to gradually skim calories over time to target fat loss. (see my "Lost Logs" for a perfect guide)
3. Eat your vegetables:
Vegetables, especially the green crunchy variety, are a helpful tool for fat loss.  When you are following a low calorie diet vegetables help you stay satisfied and digesting all that fiber helps keep your metabolism elevated.
4. Don't crunch your life away:
Ab crunches will not trim your waistline.  Training abs once a week directly is enough, especially if you are following the Max-OT training principles. Train abs with resistance to help develop the abdominal muscles and let diet and cardio take care of the fat loss.
5.  Eat often:
Small frequent meals throughout the day will help keep your metabolism elevated and aid the fat loss process.