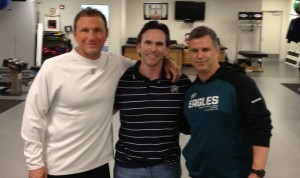 I recently had a great opportunity to spend a couple days with the Philadelphia Eagles Head Strength Coach Barry Rubin and Head Athletic Trainer Rick Burkholder at the Eagles Football facilities. It was an awesome trip to say the least.
I first came to know Rick and Barry a couple years ago when they purchased the MASS Pack and "I Want to Look Like That Guy." They enjoyed the DVDs and liked the theory behind Max-OT. They were interested in learning more so we began communicating and they invited me out for a visit.
During my time in Philadelphia we spent a lot of time talking shop. It was very interesting and rewarding to have two such highly experienced and respected guys in the NFL interested in my input on training and nutrition. I would say that our ideology on training is very similar and they have incorporated some of the Max-OT style principles into the team's workout program and even in rehabilitation routines.
It was very cool to see Barry and Rick using my training journals and following the Max-OT principles for their personal workouts. I had the chance to take Rick through a Max-OT chest and triceps session which was a lot of fun. He mentioned that while training with the Max-OT principles he was the strongest he has ever been.
It was just a great experience from start to finish and I am appreciative of the hospitality that Barry, Rick and the rest of the Eagles extended. I look forward to my next visit!
Fly, Eagles Fly!