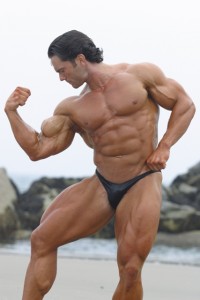 People who followed my training journals on the AST Sports Science web site and those who read my "Lost Logs" eBook quickly notice the meal schedule has the same foods at the same times every day for weeks on end.  One FAQ is "Do you ever get bored following the same eating schedule day in and day out?"  It is a fair question and believe it or not, I never got bored…..
A.) I liked the food I was eating and actually enjoyed my meals.
B.) Food selection/timing was about function first and foremost.  Variety didn't fit into the equation when designing the eating schedule.
If you want to have an extreme physique you need to have an extreme lifestyle and that means being meticulous about your diet.  Following an eating schedule is very important and eating the same basic things daily makes it easy to know your exact nutritional intake.  This is essential as you are preparing for a contest because you will need to manipulate nutrients and calories as you go.  If you don't know your detailed intake it makes it almost impossible to adjust your diet to get the desired results.
Eating the same foods everyday also makes it easier to organize your diet.  It takes away all the guesswork when you are planning out your day.  If you wake up not having any idea what you are going to eat, you will have a much harder time making sure all your nutritional needs are being met because you may not have what you need when you need to eat it.
Always remember that consistency outside the gym with your nutritional behaviors is equally as important as your dedication to the weights and a well organized and detailed eating plan will help you stay on track.