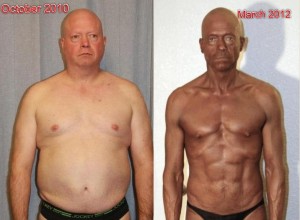 I am very proud to say that over the years I have heard many success stories from people who have executed my system and achieved great success.  I am also proud that these stories come from all over the world.   I can tell you it never gets old to hear and it is always very exciting see the "before and after" pictures.  I am driven to continue to provide information to help people who want to know the best approach for changing their bodies and I wanted to share this special success story with you.
Kevin Eller's story is unique for a couple reasons.  One is because he is from my own backyard here in Michigan.  The other is Kevin constructed the plan strictly from watching my documentary "I Want to Look Like That Guy" and taking notes.  Kevin and I never actually spoke until after his transformation was well under way and he stopped by my gym one day to show me what he had accomplished.  I was very impressed with what Kevin had achieved and humbled to hear that my documentary was the driving force behind his success.  His photos speak for themselves.
"I've had gym memberships on and off for years. I thought all you had to do was exercise and make better food choices. It was like getting in the car and trying to drive to Texas without getting a map. I got nowhere. I didn't understand that getting fit requires a planned routine and specific food choices.

I was approaching 50. My doctor said I had diabetes. I wasn't far enough along for medication but if I kept doing the same thing, I'd get there. I needed bigger clothes. I was sick of being fat and always tired.

August 2010,  I stumbled across some clips of Jeff Willet's documentary "I Want to Look Like That Guy" and decided I wanted to see the whole video.  I watched the video a few times, writing down  the workouts and printed out the meal plans included with the DVD.  Oct 1, 2010, I started executing the plan.  I weighed 215 lbs at that time.  Eighteen months later, March 2012, I entered the NPC Michigan Novice at a weight of 152 lbs.

Before I saw the documentary, I didn't believe that physical transformation was something I could achieve.  Stuart and Jeff proved that with motivation, and the correct plan, physical transformation is possible for anyone.

Thanks for making me believe!" – Kevin Eller
Thank you for sharing your story Kevin and I am sure your success will inspire others to follow in your footsteps.