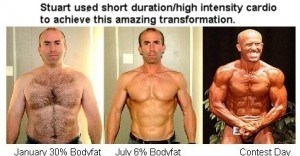 A common question I receive is about cardio timing in relation to the weight training workout, especially from people who have seen "I Want to Look Like That Guy."
During the documentary you will notice that Stuart typically did cardio directly after weight training rather than the recommended 8-12 hour separation that is considered more ideal according to the Max-OT principles that I teach.  Though it may not be "ideal," cardio performed directly after weight training can still very effective as exhibited clearly by Stuart's results.
Most people do not have the ability with their schedules to make it to the gym twice in one day and that is OK.  If you can only make it one time a day I recommend cardio after weight training rather than before so you are as strong as possible when lifting.
Here are a few other cardio tips to help you maximize results:
* Keep cardio short and intense. 16 to 20 minutes of high intensity cardio will have a greater effect on elevating your metabolism and will keep your metabolism elevated longer after exercise than long duration moderate intensity cardio.
* Work out of your comfort zone the entire session. You should be "huffing and puffing" throughout.
* Set distance goals and try to beat them every session. Working to beat your distance goals will give you a tangible marker of intensity to strive for rather than simply putting in your time.
* Frequency. If fat loss is a high priority I recommend cardio 5-7 days a week. Remember every cardio session you do will give your metabolism a jolt and fire up the fat burning process!